Looking to take your custom trophies to the next level? If so, then you should consider one of our favorite materials for custom trophies which is art glass! At Tustin Awards, we offer an extensive line of art glass awards shown here which are readily available and can be personalized with your sentiments in 2-3 weeks.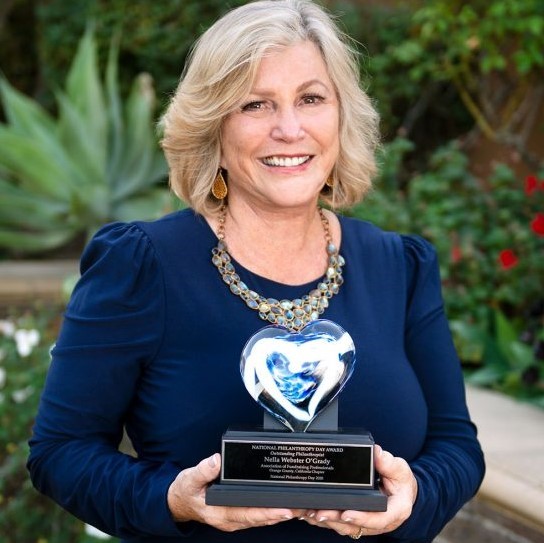 Or, if you are looking for totally custom art glass award, we often partner with local glass artisans to design one-of-a-kind awards your recipients will treasure for years to come! We also collaborate with clients who bring in commissioned art glass pieces and turn them into stunning awards. For example, in the photo above, we crafted an elegant ebony finish solid wood base and engraved metal plate for our customer's custom art glass heart.
After 40+ years in the awards and recognition industry, we have become experts in designing and personalizing art glass custom trophies. Whether you are new to ordering awards or a seasoned recognition professional yourself, here are a few things to consider when using art glass for your next award:
Things to Know Before Ordering Art Glass Custom Trophies
No Two Are Alike
Art glass awards are a popular choice for their vibrant colors and individuality. Unlike most other recognition options, each art glass award is handmade and completely unique.
Given the inherent custom nature of art glass, it is common for custom trophies made from this material to have variations. Slight differences in height, color shades/placement, the appearance of bubbles inside the glass (some of which even appear on the surface), and shape are all characteristic of art glass awards and should not be considered defects.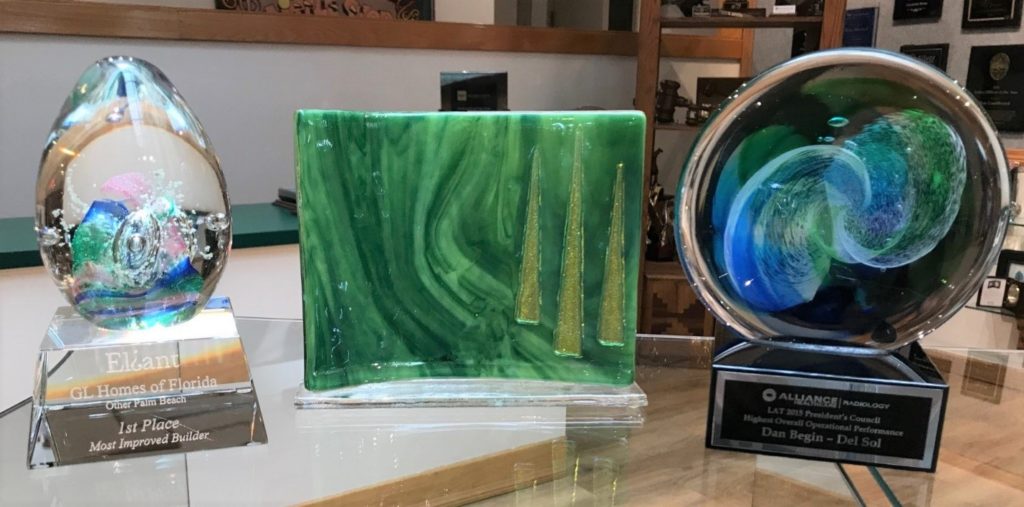 Less Text is Best
Think "short and sweet" when creating the verbiage for your art glass custom trophies. Some art glass awards like our Blue Teardrop include a base for personalization. However, the engraving area on most of these bases is generally smaller than other award styles. Depending on the base style and engraving method, you might only have room for your logo, award title, recipient name, and year. By contrast, other art glass pieces have space for us to engrave directly into the art glass itself which looks gorgeous! However, these pieces often have subtle designs within the glass which makes small text difficult to read. Although have the option to add a color fill such as gold or silver to your engraving to improve legibility, we still recommend keeping your text brief.
Most importantly, engraving too much text on an art glass award detracts from the beauty of the piece. If you absolutely must include a lot of verbiage on your award but still desire a pop of color, let us help you find custom trophies which allow you to include both.
Exact Color Matching is Not Possible
If your marketing department walks around with a Pantone book in their back pocket to check for color consistency, then you might want to avoid art glass awards. We absolutely, positively guarantee that your art glass awards will not match your branding standards. But we can promise that art glass custom trophies will excite any recipient!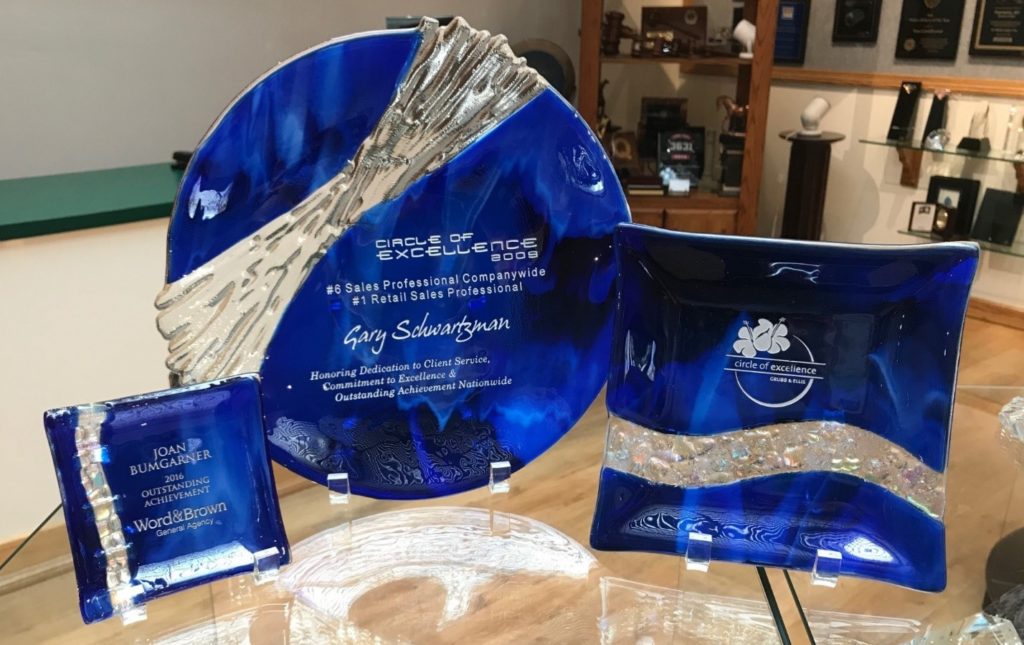 Why Use Art Glass for Custom Trophies?
Art glass pieces are a fantastic choice for the person who has won a lot of awards already. The brilliant hues of art glass awards set them apart from a sea of more traditional desk awards and wall plaques ensuring your award will be proudly displayed in their home or office.
Additionally, art glass is especially popular among organizations that pursue creativity and innovation. And clients who have ordered art glass awards have come from Fortune 500 companies, premier academic institutions, and nationally known non-profits. With over 40 years of expertise in the awards and promotional product industry, we hope you will allow Tustin Awards to create the art glass custom trophies of your dreams!