Providing Orange County custom awards, promotional products and on-site engraving for over 40 years.
How many times have you ordered an Orange County custom award only to discover that it wasn't exactly what you thought you were getting? Or, maybe it didn't arrive on the day you thought it would? Perhaps you even tried to call the online company but lost precious time navigating a phone tree without talking to an actual human?
At Tustin Awards, we get it! And we are here to help you avoid these online buying horror stories.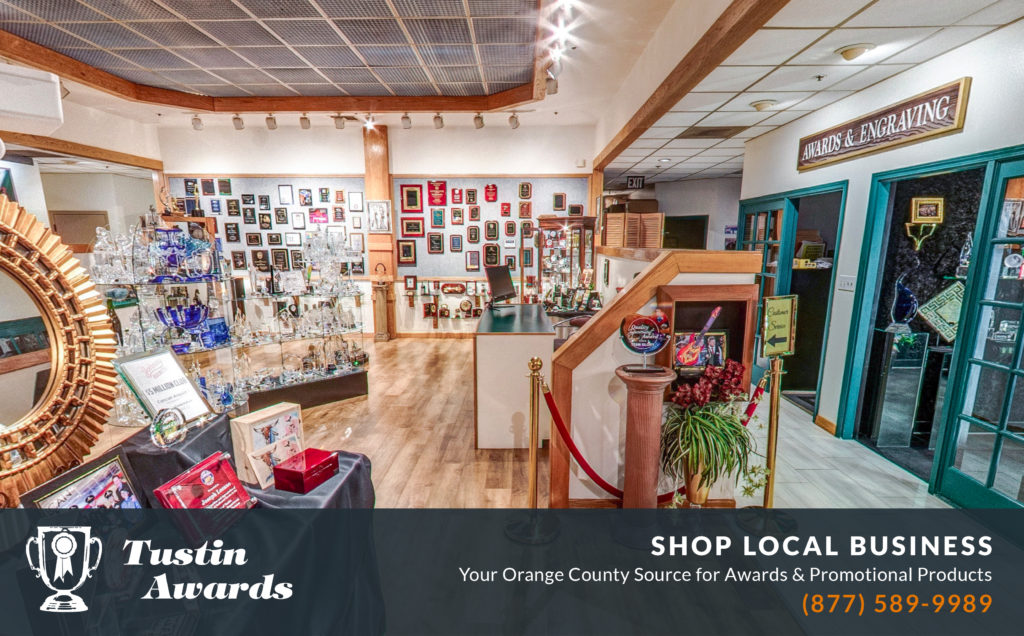 Since 1978, Tustin Awards has served Southern California with a customer-first approach. We have your best interest at heart!
When you choose Tustin Awards, you work directly with people who design, engrave, print, and assemble your Orange County custom awards in-house. A lot of online companies do not do any of this work themselves. They are at the mercy of another vendor and so are you.
Here's why customers have been using Tustin Awards as their Orange County custom awards & promotional products source for over 40 years!

Customer Service
We realize purchasing awards and promotional products can be a confusing and stressful process. Whether this is your first time ordering or you're an experienced buyer, we will save you time and money by helping you find exactly what you need!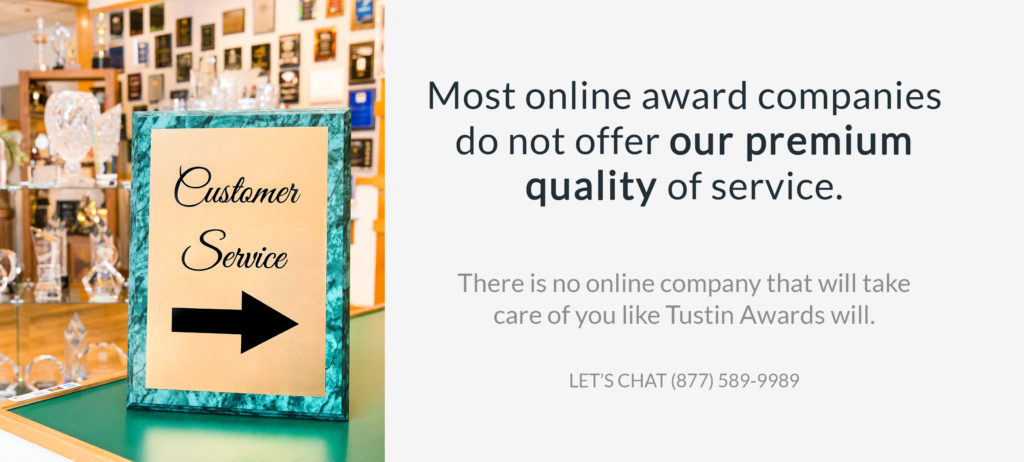 Whether you prefer to purchase in-store, via email, or using our online storefront, our customer service team will help you find exceptional awards and promotional products which align with your corporate branding, fit within your budget, and meet your deadline.
If you have any questions or need ideas, call us so we can help you in real time. Or email us, so we can guide you through the creative process. We also assist customers while they are on our website to ensure they find the right awards for their needs.
Showroom & Online Storefront
We recognize customers have different shopping preferences. For clients who people prefer to touch and see products before purchasing, we have a spacious showroom conveniently located in Tustin. Our brick and mortar store allows you to see products in-person to make sure they meet your expectations. It's also a great place to meet with a recognition specialist to find new award and marketing ideas. If you have the time to visit our showroom, we strongly recommend it!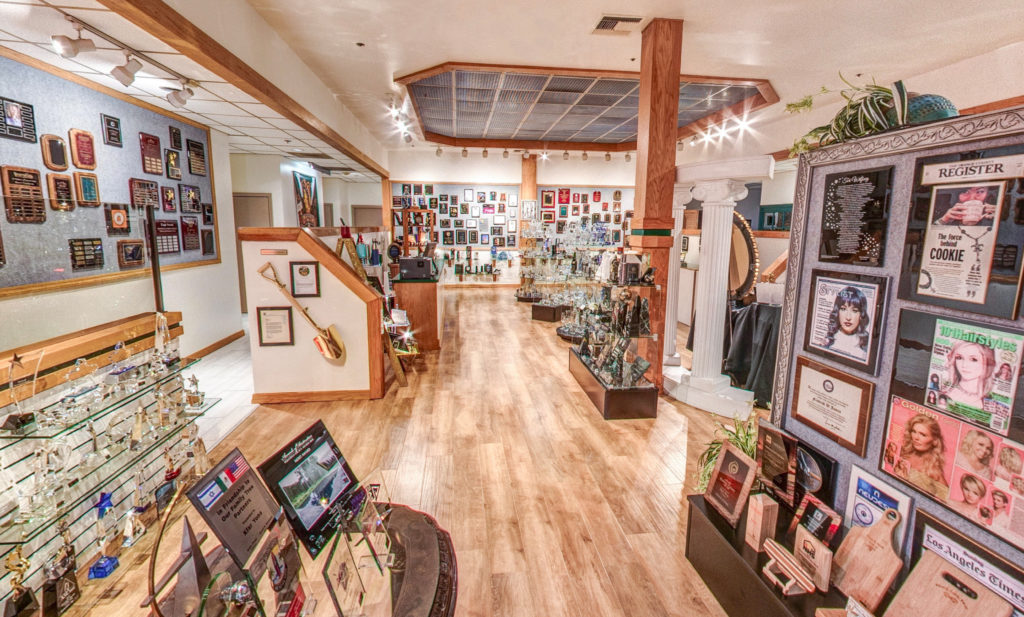 Some customers prefer to order online – we get it! With a few clicks on our online storefront, you can quickly place your order and move onto your next project. But, before production begins, your order is carefully reviewed by an actual human for any critical issues. For example, we often receive award orders from clients who forget to include details like the recipient's name, presentation date, or logo. Or maybe the award someone ordered for the CEO of their company is only 5 inches tall (and a potential embarrassment). To save time and make sure your order is perfect, we will contact you to resolve any issues before production begins.
On-Site Engraving & Full Color Printing
At Tustin Awards, we offer on-site engraving, sand blasting (also known as sand etching or sand carving), as well as full color digital printing. We regularly engrave and print on materials including wood, glass, acrylic, aluminum, brass, marble, granite, and more!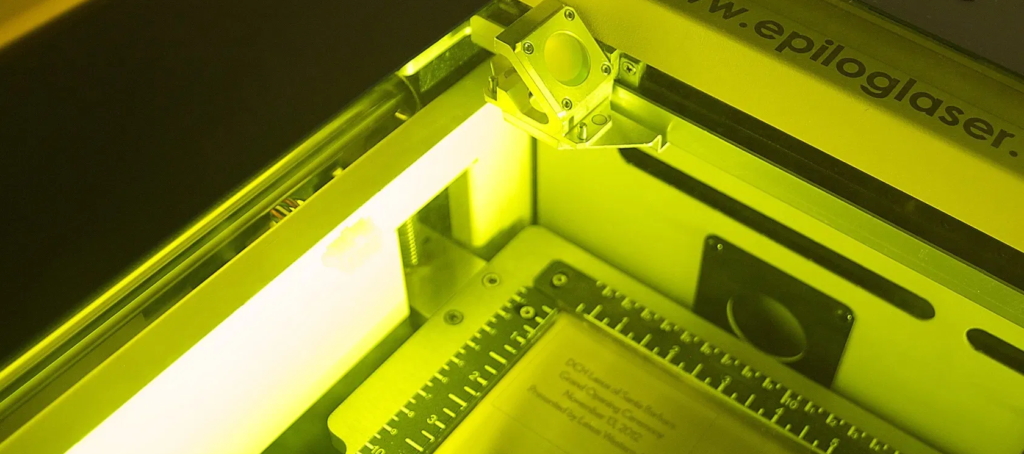 With the latest in engraving and color printing technology, if something can sit still, there's a good chance we can personalize it (but for human personalization, please call a tattoo artist).
Quality
Our exceptional quality and attention to detail has kept Tustin Awards in business for over 40 years. Because we engrave, print, and assemble our products in-house, we have complete control over the personalization process. We also have a minimum of three people inspect your award during and after production to ensure your order is flawless. While other companies often "cut corners" by using cheap materials or inferior engraving methods, we guarantee excellence at every price point.
For example, some online companies will sell laser engraved glass awards because laser engraving is a much faster process than sand etching. But when customers receive these laser engraved awards, they are shocked to discover that the engraved letters are hard to read or even flaking off. At Tustin Awards, this is a shortcut we will never take.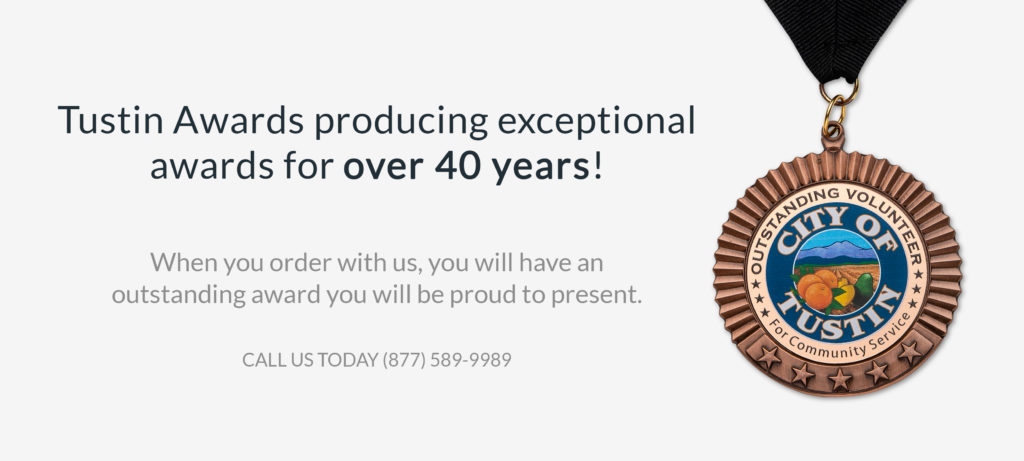 On-Time & Safe Delivery
In an era where employees routinely wear "multiple hats", deadlines become tighter, and the margin for error is nonexistent, we do everything possible to ensure your awards and promotional product buying experience is a breeze!
As the industry leader in on-time delivery, we recognize that deadlines are non-negotiable.
Whether you have an awards presentation, graduation, fundraising gala, or retirement dinner, we consistently exceed expectations to make sure your awards and promotional products are the least of your worries!
Ordering from out of the area is extremely risky when hard deadlines need to be met.
More than a few times, we have had customers call in a panic because the awards or promotional products they ordered online from "Brand-X" were misspelled, too small, damaged in shipping, or poor quality. Their presentation is tomorrow, and the company they originally used either can't or won't rectify the situation. The fact is, if they would have shopped locally for Orange County custom awards they could have avoided this nightmare.
Fast Custom Awards Production
With on-site assembly and personalization, we guarantee speedy production, order accuracy, and high-quality products to meet your in-hands date. We will make every effort to meet any reasonable deadline.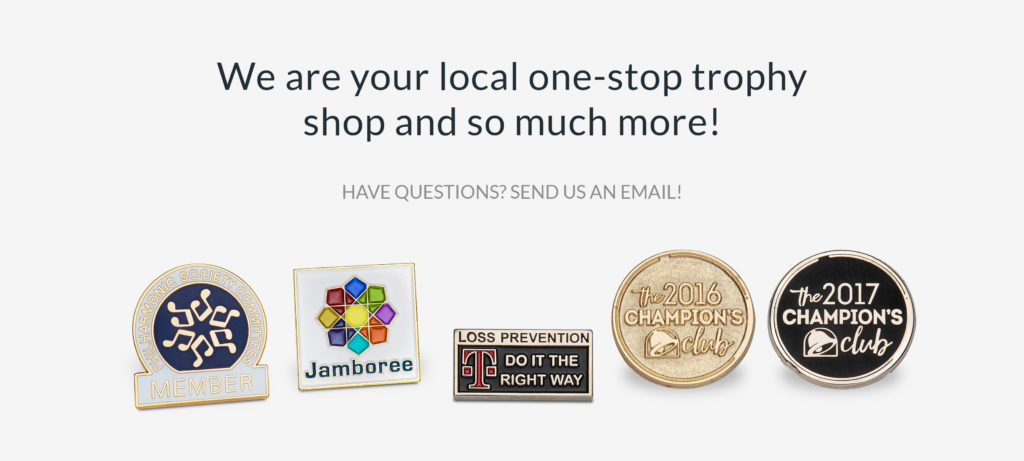 Orange County Community Focus
When you shop at Tustin Awards, you are supporting the people in your neighborhood. Many of our employees have worked at Tustin Awards for over 10 years (some for 20+ years). We regularly give back to local community organizations such as schools, sports teams, and non-profits.
Value
When you add up all the advantages of buying locally from Tustin Awards, you will find that the value we provide blows the competition away. No one will provide you with better service or quality—we guarantee it. Save yourself the time, money, and headaches.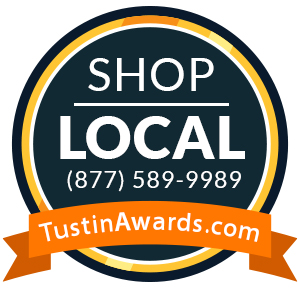 We are ready to start your next Orange County custom award or promotional product project! Shop local at Tustin Awards.
Learn more about us!