I'm Jake Hill, and my wife Mary and I own Tustin Awards. Let me tell you the story of how it all began…
So, where do we start? Do we go all the way back to the mid 1950's or do we start when my parents (Carl and Ardelle) bought a tiny trophy shop in 1978? Yes, Tustin Awards was originally started in 1955 and located in Santa Ana. Eventually, one of the subsequent owners moved it to a small storefront on the corner of Newport Ave. and Irvine Blvd. in Tustin. And that is where it was when our family joined the ranks of engravers! 
After two moves and a name change from Tustin Trophy and Engraving to Tustin Awards, we landed at our current location on Bell Ave. in Tustin. I've been asked many times what my first job was at Tustin Awards and my answer is always the same: taking out the trash (facts are facts).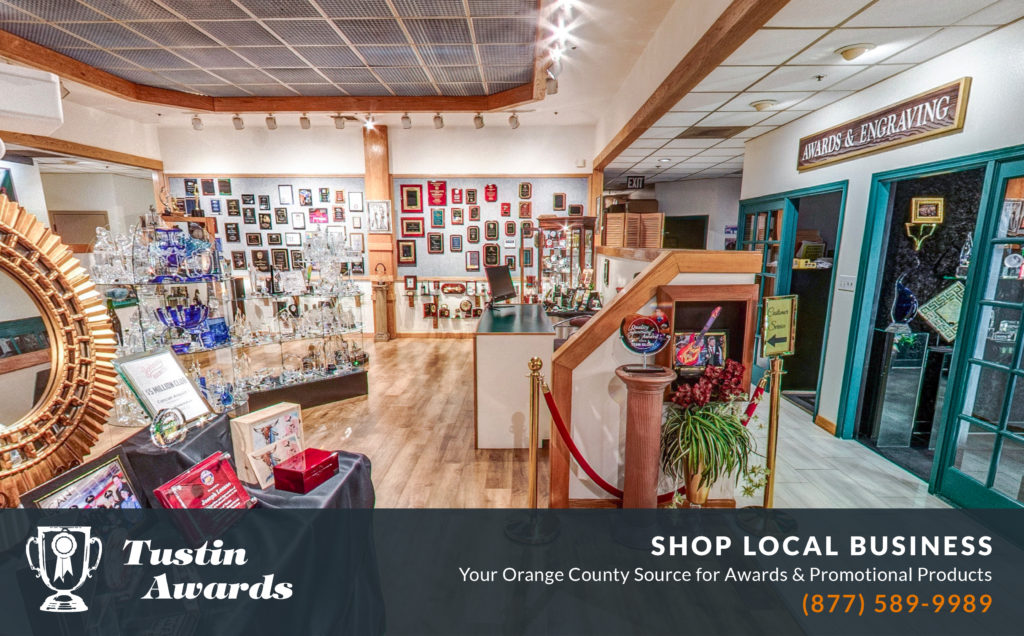 Eventually, my parents taught my wife Mary and I how to engrave and assemble plaques and trophies. Eight years later in 1993, Mary and I bought the business from my parents and moved it to the Bell Ave. address. At that point, we had already branched out into the Ad Specialty market, and later expanded our capabilities with in-house digital printing.
Tustin Awards was fast becoming one of the largest awards dealers in Orange County and the United States, and we continued to grow until the great recession in 2008. After a couple of years, we started to grow once again. We have been fortunate to serve thousands of satisfied clients and customers, and we continue to expand our line with new products and services.
Since the COVID- 19 virus invaded our shores, Tustin Awards has pivoted by adding PPE products and we now ship more of our awards to recipients' homes. Despite the new challenges we face, our production time remains unchanged, and we can still process rush orders in one or two days.
Since day one, Tustin Awards has engraved and assembled all awards in-house. This allows us to have strict quality control standards and remain at the top of our industry. Our client base comes from all across the United States and Canada, and over 85% of Tustin Awards sales are from repeat customers.
We have met some wonderful people along the way, and we sincerely appreciate the opportunity to recognize the true champions and heroes among us.
We never take for granted the trust our clients have in us, and we constantly strive to be better each day. It is this deeply held value which has inspired us to place multiple signs on the walls of Tustin Awards engraved with our motto:
"We are here to serve people and solve problems. That's what we do."
On behalf of the entire Tustin Awards staff, we look forward to serving you.
Thank you,
Jake Hill
President
Tustin Awards, Inc.