You knew this day would come, and now it's finally here! The time for you to create the perfect corporate award to honor your employee.
Your new sales associate just smashed her sales goal.  Your office manager is about to celebrate his ten-year anniversary with the company.  Your team finally launched that product and business is booming.  Someone in your sphere persevered with tenacity or displayed exceptional ingenuity, and those efforts resulted in something remarkable.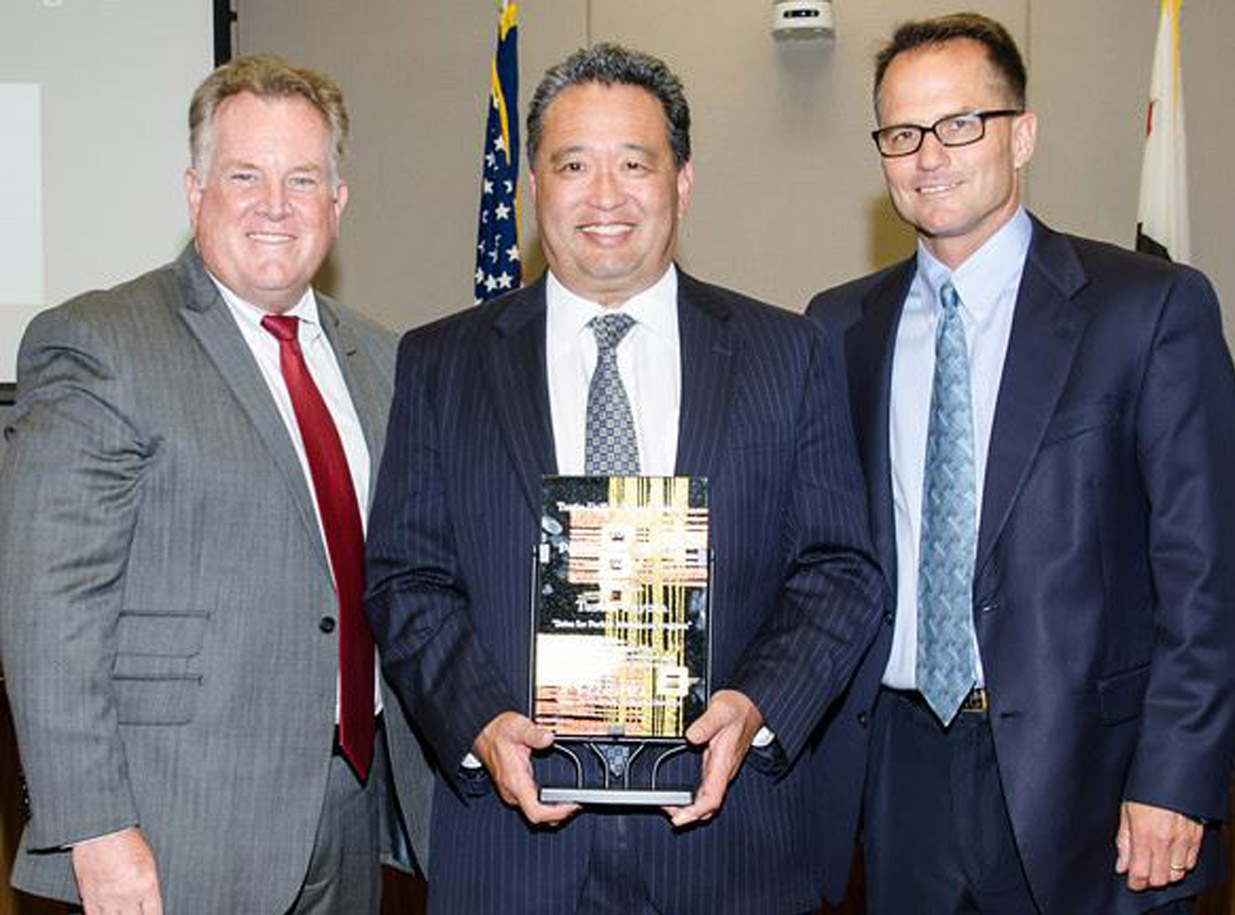 The time has come to recognize his or her excellence with an award, and you want this award to be nothing short of spectacular.  So, how do you make sure that this corporate award reflects how deeply you value his or her efforts?  How can you be sure that your recipient will be wowed?
With over 38 years of experience in the awards industry, we've learned a thing or two about the do's and don'ts for ordering corporate awards.  And, since we know you've got a dozen other things to think about for your presentation (you already sent out memos, and figured out catering… right?) we consolidated our experience into these 5 essential elements for an unforgettable corporate award.
1. Know Your Budget, Quantity and Presentation Date
Having these three things determined before placing your order will save you time and money.
Budget
One of the most common questions we receive is, "How much do corporate awards cost?"  This is a fantastic question! The answer depends on the award size, material, quantity, and level of customization.  Although our economy awards start at $25, most plaques and corporate awards range from $75-$250.  Having a budget in mind will save you the time of searching through countless awards options and refine the search to options in your price range.
Quantity
When customers place higher quantity orders (i.e. ten or more awards), we can offer discounts.  Knowing the quantity up-front will allow us to provide you with the best possible pricing and confirm that we have plenty of awards in stock to complete your order.
Presentation Date
If you have a firm presentation date, this can affect the available corporate award options.  Some award components come from local manufacturers, while other components take weeks to arrive.  Please tell us ASAP if you have a presentation date so we can provide you with creative and cost-effective options well before your event.
2. Consider Your Recipient's Tastes
Take a moment to think about what your recipient would be proud to show off in his or her work space.  Maybe his desk is already full of other projects and a wall plaque (or something acrylic that won't likely break should it be knocked over) would be a better fit.
Maybe their office has an open floor plan with great natural light, and an optical crystal piece would really illuminate their achievement?  Perhaps something abstract and asymmetrical would reflect your teams' out-of-the-box thinking that helped them meet their goal.
Taking the time to consider what corporate award your recipient will enjoy not only adds a personal touch, but it also shows your recipient how much you truly appreciate their accomplishment.  We have hundreds of samples in our Tustin showroom, so feel free to come by and view them in person!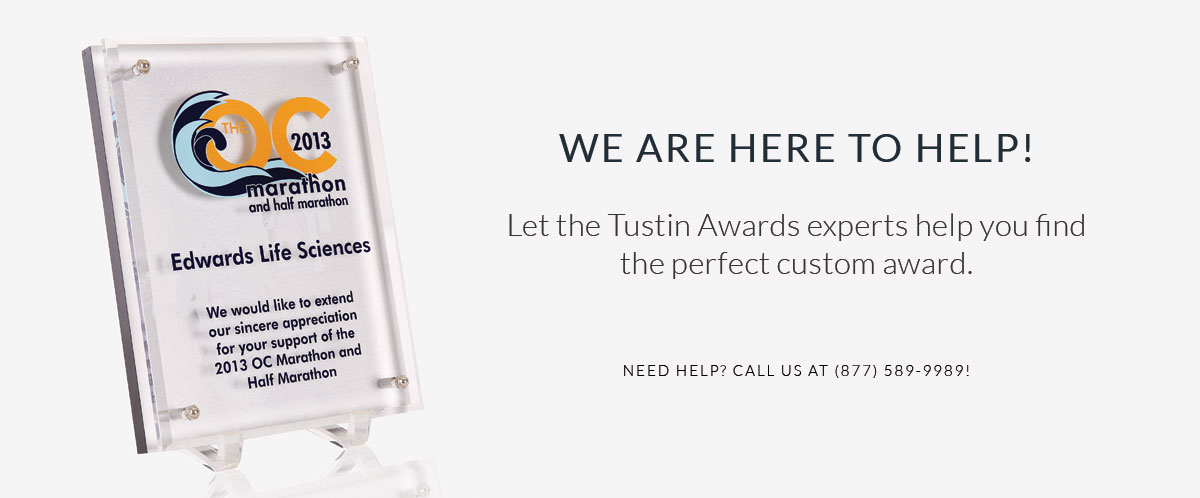 3. Limit Your Engraving Text
Keep your message simple to make sure that piece you chose truly shines. Writing a novel is a huge accomplishment.  Writing a novel on a plaque that you're planning to give to someone is a huge mistake.  Of the many cringe-worthy moments we see in the awards business, (and believe me, we've got some great stories to share in later posts), one of the most common (and least dubious) is when a client decides on a beautiful corporate award, like a clock or plaque, and then pulls out two full pages of text for us to engrave.  Spoiler alert: this never ends well.
Too much text overpowers and clutters a piece.  We've drafted this handy guide to help you decide what (and what not) to write on your recipient's award.  Or, feel free to call us for suggestions!  We're glad to assist you in crafting the sentiment for your award.
When it comes to deciding what to write on the piece you've so carefully chosen, we like to reference the acronym penned by some great philosopher somewhere… K.I.S.S. – Keep It Short (and) Sweet!
4. Whenever Possible, Plan Ahead
For a stress-free experience, try to allow at least 2 weeks for ordering and receiving your corporate award. Although we will gladly work within any project deadline, to maximize your budget and awards options, we recommend at least 2 weeks for ordering awards.
While an award may only spend minutes in the laser engraving machine, the process from ordering to completion may take days or even weeks, depending on the award material, level of complexity, and quantity.  Furthermore, planning ahead typically minimizes expensive errors and last-minute additions.  While ordering one more piece from a local manufacturer is usually no biggie, expediting an award from the east coast or overseas gets a little more tricky… and costly.
5. Review Your Proofs Closely
Carefully review digital mock ups of awards to ensure your corporate award look perfect… before they hit the laser! Be sure to double (and triple) check your proofs before giving your approval.
It wouldn't be a bad idea to ask someone else from your company take a gander too.  To save yourself the uncomfortable moment of reassuring your recipient under your breath that you know his name is spelled wrong but you promise you ordered a replacement that you'll have in a few days, (or weeks if that part comes from a far-away land as mentioned in #4), go over your proofs.  Again.
Now you know the 5 essential elements for ordering an unforgettable corporate award!
Still have questions?  Call us at 714-247-2277 or come visit our showroom in Tustin!  We're here to help!